February 21, 2012 in Tutorials and DIY
 Plastic grocery bags plague me.
I used to stuff them in an old applesauce cup box from Sam's Club. Recently they have been scattered on the floor of my pantry because the paper bag that I kept them in was too easy for Kamikaze to reach. (Plus, he is really into throwing anything he can get his tiny fingers on).
I've seen the cute stuff sacks that you can sew or buy to hang and keep the bags contained-I like this one from mystudiobellingham. Right now my schedule doesn't allow for the sewing of one, and the budget doesn't allow for the buying of one. I know I could buy and use reusable shopping bags. I've had these in the past and they always end up being at home when I am standing in the checkout line.
My solution for this plastic bag plague? An antibacterial wipes container. I can stuff lots of plastic bags in it and place it one the shelf in the pantry (out of the reach of tiny hands.) I decided to label mine with some permanent markers. I did this for two reasons. 1. It just looks better. 2. The family can find them without asking me where they are.
So instead of throwing that container away, save it, decorate it (or let the kids do it), and use it for something useful.
I did use my black copic marker and it did not dry as fast as the colored Bic permanent markers. Be careful as you are writing or sketching as it can smudge easily. Once it's dry, it won't smudge or rub off.
How would you decorate yours?
Check out this post at Alderberry Hill. It appears that they glued a piece of scrapbooking paper onto their container.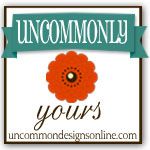 …