May 11, 2012 in Uncategorized
This week I am participating in the Edit Me Challenge. I felt like changing it up and added a digital scrapbook vibe. That's the beauty of the challenge. The lack of rules.
Here is the before. A beautiful ballerina.
And here is my edit. Still a beautiful ballerina.
I used Photoshop to edit this beauty. I felt like digital scrapbooking this one. And what I feel like doing is sometimes what I actually do. (Free Tip: That's a way to not get a lot of things done. You're welcome.)
I cloned out the tree on the left. I adjusted curves and vibrance. I used dodge a bit on her face and her dress. I added a bokeh texture from Lost and Taken to the sky, and I used one of their watercolor textures for the quote background. I adjusted the color balance on both of those. I added a custom border designed by me. And a quote not said by me. And I am doing a search right now for an adult sized dress just like that.
Check out other people's edits of the ballerina picture by clicking here.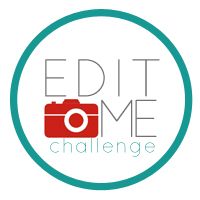 I also captured this bubble face. Who knew a bubble face could look so cute. Cute little bubble face.
Sharing at: